About Expedia cruises
$100,000 Liquid Capital Required
Expedia Cruises is North America's Full-Service Leisure Travel Agency specializing in air, land, and sea vacations. Build equity and enjoy a great lifestyle with our proven franchise model with more than 30 years of success.
FULL COMPANY INFORMATION
Join North America's Full-Service Leisure Travel Agency Franchise
Are you searching for a business opportunity offering the perfect balance of equity, lifestyle and fun? At Expedia Cruises, we pride ourselves on being able to do it all! The power of Expedia's brand, paired with our commitment to exceptional customer service, our omnichannel approach, and our proven franchise model, has helped us grow into a leading seller of travel in North America. Although we specialize in cruise, each Expedia Cruises franchise location is a full-service leisure travel agency.
Air, Land & Sea Vacations
Each Expedia Cruises location helps customers book All-Inclusive Resorts, Coach & Rail Tours, Vacation Packages, Homes & Villas, Insurance, Flights, Hotels, and Activities. Whether a customer is looking to add a pre or post-trip to their cruise, or are seeking a traditional land vacation, our strong supplier relationships with preferred air and land partners have allowed Expedia Cruises to be the go-to travel agency for every customer's vacation needs. Plus, Expedia Cruises franchisees enjoy tremendous buying power with every cruise line and land supplier. This means that you'll earn some of the highest commissions in the industry.
Why Expedia Cruises?
- Build equity in a scalable retail business, backed by the largest travel brand in the world – Expedia
- Join forces with a proven franchise system with more than 30 years of success
- Demand for expertise is more valuable now than ever
- Global passenger volume expected to recover and match 2019 levels by the end of 2022 and surpass it by 2023
- 80% of travelers who have cruised before say they will cruise again – same percentage as before the pandemic
- 100+ member corporate support team dedicated to helping you build out your Center and achieve your business goals
- Funding and financing options available to franchisees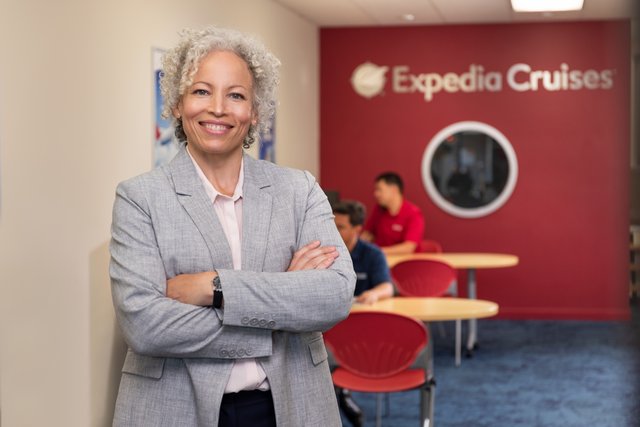 More Information
If you're a proactive, outgoing leader who wants to build a profitable business in the exciting travel industry, find out more about Expedia Franchise opportunities in your area by submitting an information request on this page.
Financing Options:
Expedia Cruises is an SBA approved franchise, ask us how you can leverage your retirement funds to finance your franchise. Veterans and First Responders receive a 15% discount on the Franchise Fee.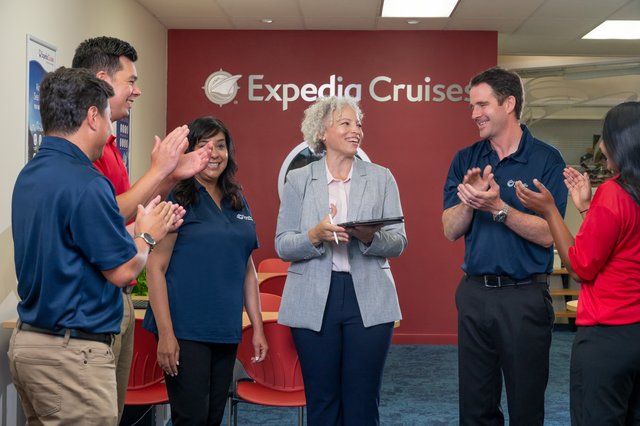 Testimonials:
"I have always dreamed of owning my own business and had extensive experience in corporate America. The support of the Expedia CruiseShipCenters franchise system allows me to capitalize on my experience while taking advantage of a proven system. I'm not left to re-invent the wheel."
Jon Harvill Birmingham, Alabama – Franchise Owner
"The idea of a big digital company also doing brick-and-mortar locations to appeal to every segment of the market was attractive to me and I felt that it was very forward-looking. Expedia is a household name that has instant credibility and instant familiarity with our customers. That is a big differentiator from most of our competitors who don't have a big brand for people to connect with."
Chris Meyer Orange County, California – Franchise Owner
"We are so grateful to work with the very talented and dedicated team at Expedia Cruises. They are industry leaders that have incredible technology, advisor education, and marketing tools that support their Vacation Consultants. During these very challenging times, more than ever, Expedia Cruises has proven once again their tremendous value and partnership to not only Carnival, but to the travel industry overall. With the support of their corporate leadership team we have been fortunate enough to partner more closely than ever and are even more optimistic about our partnership and coming out of this stronger than ever"
Adolfo Perez, Senior Vice President of Global Sales and Trade Marketing, Carnival Cruise Line
"Expedia as a brand is so powerful, but what is really powerful are the people behind the brand. Celebrity Cruises, a long-time partner of Expedia Cruises, believes their leadership team, HQ support team, franchisees, managers and vacation consultants are among the best of the best in developing the most innovative technology, marketing and training. When you join Expedia Cruises, you are in great hands to have a fun, exciting, motivating and fulfilling career."
Senior Vice President of Sales, Trade Support & Services, Celebrity Cruises