About Mosquitoes gone
$25,000 Liquid Capital Required
Mosquitoes Gone® designs, installs, and services custom outdoor Mosquito Misting Systems which effectively controls flying, biting, and stinging insects. We are committed to our customers and are staffed with only the most qualified workforce to meet the needs of our customer base.
FULL COMPANY INFORMATION
What's the buzz? A little Mosquitoes Gone history
Nothing is better than enjoying a relaxing evening in your backyard with a cool beer, a steak on the grill, and your kids playing in the pool.
Nothing is worse than the buzz of a mosquito, painful bites, and a fast retreat back inside. Why keep up your backyard, if you can't enjoy it? That's what Jason Turner thought when he founded Mosquitoes Gone in 2009.
The Mosquitoes Gone Franchise System is born
Jason's proprietary system of mosquito control spraying and his innovative, automatic mosquito misting system became popular immediately and Mosquitoes Gone quickly became the largest mosquito control company in Middle Georgia. Not long after, entrepreneurs across the country contacted Jason about owning and operating their own Mosquitoes Gone territory and the franchise system was born.

A business that's growing
Today, Mosquitoes Gone offers a unique franchise opportunity that allows franchisees to help families enjoy their backyards while providing for their own families with a successful business that can grow and grow. A Mosquitoes Gone franchise can start small with one truck, but own a large territory immediately. When ready, the business can expand within the territory. One truck can grow to many and success can be unlimited. There are not too many franchises out there that offer the growth potential of Mosquitoes Gone.
Our Help Lets You Be the Boss and Grow
We know you as a business owner want to grow as much as you can using your talents. We are here to help you do just that!
Your success is our success. We offer extensive training as well as tools to help you grow without taking you away from the day to day operations.
Your Training
All new members of the Mosquitoes Gone team go through a complete training process at our offices in Macon, GA. Jason Turner the founder and his team will conduct the training. Once training is complete you will leave with the confidence and excitement to get the ball rolling.
But That's not ALL
We're not done there. We are here to help after the initial training anytime you need it. Just give us a call when any question arise. We'll with continued support on all aspects of the business, a few below.
- Marketing Support
- Day to Day Support
- Ongoing Training

Mosquitoes Gone Franchise Cost
Mosquitoes Gone Franchising has one of the lowest franchise fees on the market. The franchise also offers low overhead, since no building is needed as well as minimal equipment and inventory. This makes a Mosquito Gone Franchise an appealing business for anyone.
Investment Cost Breakdown
A Typical investment may vary depending on your local market, the numbers below are a breakdown of a single territory. The normal cost of a Mosquitoes Gone Franchise range from $73,250 – $120,950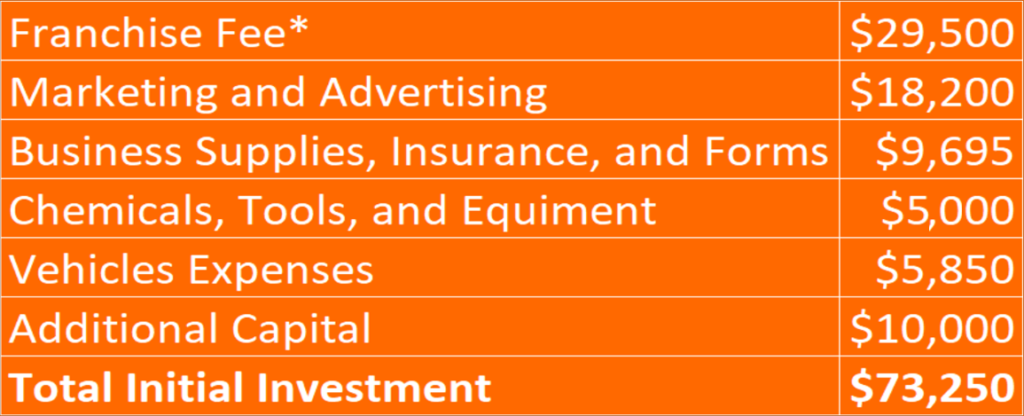 *Pricing does not include any discounts offered
This pricing table is an estimate of the cost you pay. The Franchise Disclosure Document (FDD) discusses figures in more detail. We'll send you a copy of the FDD when you have spoken with a Mosquitoes Gone Franchise representative about being apart of the team. If you have any questions about the FDD, we'll be glad to answer them or any other information you have.
Let's get started-No ifs, ands, or buzzes!