About Repicci's
$30,000 Liquid Capital Required
Repicci's offers Mobile Franchise business opportunities selling authentic Italian sweet & savory products. Join our family of Franchisees today!
FULL COMPANY INFORMATION
Looking to join the Repicci's Franchise Family?
Repicci's offers Mobile Franchise business opportunities selling authentic Italian sweet & savory products. Join our family of Franchisees today!
Century-Old Recipe, Loved Around the World
Our company has authentic Italian roots. When Dominic Francesco Repicci immigrated from Messina, Italy to America in 1911, he brought his family's Old World recipe for Italian Ice. At first, Dominic shared his family's delicious Italian treat with friends and neighbors in South Philadelphia. It wasn't long before Dominic found himself busy producing his family's unique product to meet an overwhelming demand.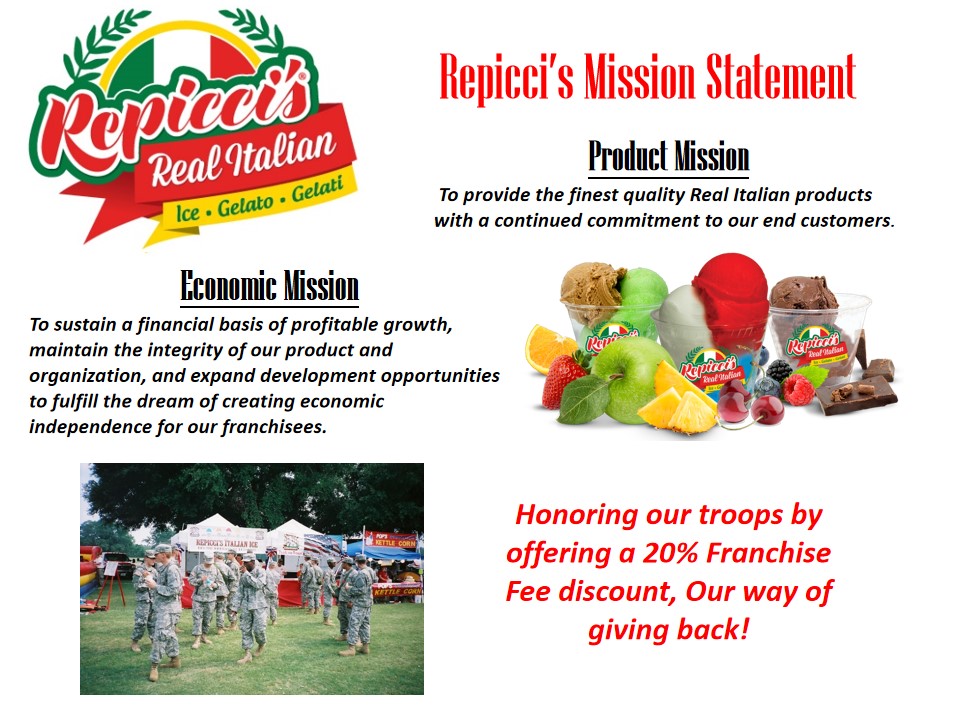 The quality and uniqueness of our products are our strengths.
Flavors for all ages is not just a catchy phrase, it is the reality of the products we sell. Not only do we have flavors but products that appeal to all ages.
Our quality ingredients and state of the art manufacturing in continuous feed Ice Cream Freezers delivers a smooth and silky consistency not typically found in non-dairy products. While the natural ingredients of our Artisan Gelato & Sorbetto appeals to the most discerning Ice Cream lover's
Our Mobile Concept allows us to go to where the people are, and then we let the Repicci's Products do the rest.
Our customers range from young and old alike. For the lactose intolerant, our Italian Ices & Sorbetto's are dairy free. Our "All Natural Ingredient" Artisan Gelato is manufactured with less butterfat and with less air added to the product and natural ingredients for a more intense flavor of your choice. In 2022 we are proudly introducing our non-dairy, plant-based Gelato made with almond, coconut or oat milk in place of traditional cow's milk.
Our mobility and our unique products enables us to serve & provide our customers with the highest quality of frozen desserts not normally available at outdoor events. Repicci's delivers our premium products to a much broader healthy conscious demographics, including those that are lactose intolerant. The opportunities are boundless!
We recently added a 'Hot Station' to our mobile units and now provide Italian Imported Coffee & Tea , Hot Chocolate, and savory Italian Sausage Subs, expanding our day's serving times as well as the seasons.
Now and the Future
Dominic's grandson, Frank, continues Dominic's passion for offering quality Italian treats. Frank opened a manufacturing plant in Tennessee in 1998, which initially supplied concessions for the Chattanooga parks and recreation facilities. The popularity of Repicci's Italian Ice continues grew rapidly throughout the Southeastern United States. Franchising began in 2005, starting out as seasonal tents that would pop up at spring and summertime events. These trailblazers continued to gain loyal fans for Repicci's one-of-a-kind products, and in 2014 it was decided to include mobile trailers in our franchising model. Now, Repicci's products are manufactured on a larger scale in Selmer, Tennessee, enabling the company to meet a nationwide demand. We have more than 40 franchises nationwide, where Repicci's products are enjoyed by many people in many locations. Today, Repicci's is a leading Italian Ice franchise.
The future lies in taking our product to customers where they are, rather than waiting for them to come to us. We offer new franchisees the opportunity to own a business, selling delicious Real Italian Ice, gelato, roast coffee and hot chocolate at events of all kind. From fairs and festivals, to sporting events, to rodeos, reunions and even weddings, a Repicci's Italian Ice & Gelato food truck is suited for any occasion or event. Our Future – The benefit of food trucks is our ability to bring Repicci's Real Italian Ice products anywhere. The future of Repicci's also lies in technology. We now offer mobile text marketing to provide you with up-to-date offers, specials, new flavor alerts and even where our trucks will be parked. Repicci's information is available online through our website and mobile enabled website, our Facebook, Google+ and Twitter accounts. Repicci's Italian Ice & Gelato Franchise Group is better than a frozen yogurt franchise or ice cream business. Why? Our old world recipe and one-of-a-kind products will set you apart from the competition.
Join the Repicci's Italian Ice franchise family today.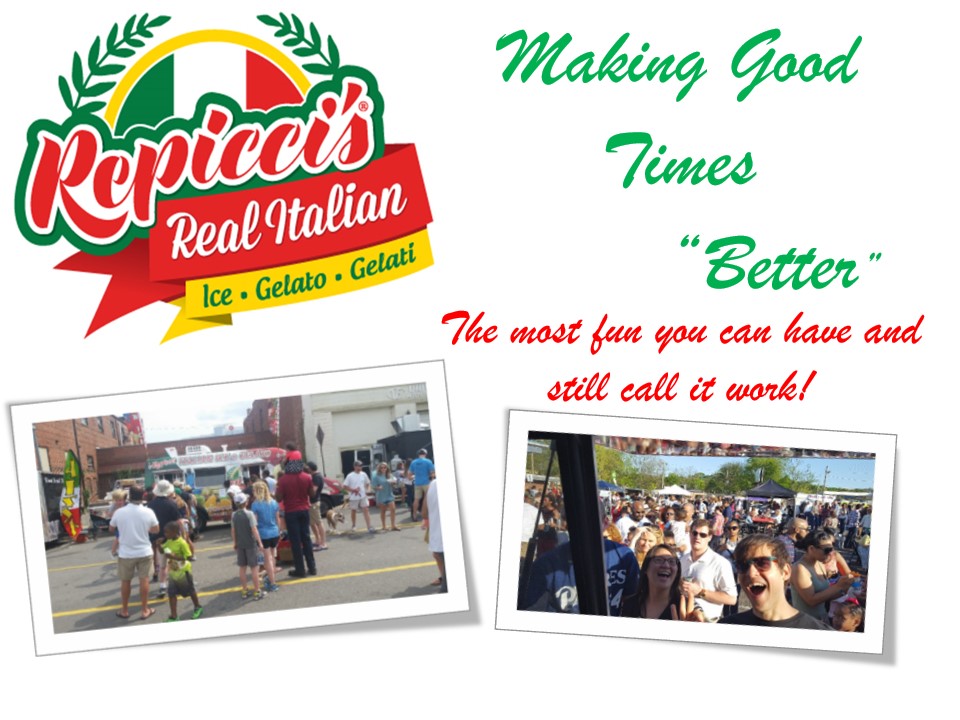 The Investment
Our Repicci's Mobile Franchise Opportunities have an All In Turnkey cost between $7,500 to $132,850. You'll also enjoy royalty-free franchising when you meet minimum product purchase requirements.
The Timeline
Our franchisees average a short 90 to 120 days to complete all steps needed to open their Repicci's Italian Ice business. This includes training, equipment setup, and food licensing.
The Difference
Being mobile, you take the product to the customers rather than waiting for them to come to you. Once customers get a taste, they come back for more.
Thank You for Your Service
We offer our Military Family a $6000 discount on the franchising fee.