About The file depot
$30,000 Liquid Capital Required
Protect and Recycle! The File Depot was formed to provide excellent service to clients. We help our friends, neighbors, and fellow businesses to protect their information through our shredding, storage, and recycling services.
FULL COMPANY INFORMATION
Franchise Inquiry
We have put together an extraordinary business opportunity that provides important cost-effective services to virtually every type and size business. As we expand nationally and internationally, we are looking for dedicated business owners who would like to create long term relationships with their clients while providing a full range of document management products and services, paper and electronic.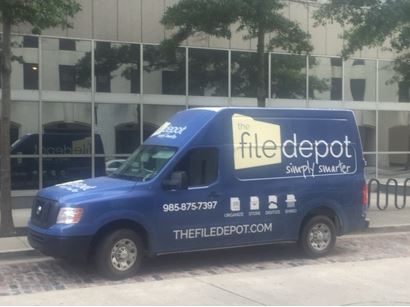 Testimonial – The File Depot Franchisees
Scott Kimbrell Jr.
"I found The File Depot easy to get started and did not require a large investment of time and money. This has been an easy service to operate and requires a minimal amount of time to manage. Once your customers are familiar with the services, the business grows on its own as they continue to create more paper for shredding and storage."
About Us
The File Depot was formed to provide excellent service to clients. In 2002, The File Depot began operations in the small town of Slidell, Louisiana, a suburb of New Orleans. There, like many places, businesses, governments, and organizations continue to have a growing need to manage, protect, and properly destroy their paper and electronics.
Rob Perry, a Certified Records Manager and 25-year owner of his own records management facility, co-founded The File Depot. They created a cost-effective array of document life-cycle management services for both paper and digital mediums including scanning, storage, shredding, and recycling. These services are managed in safe, secure facilities that currently serve hundreds of clients.
The File Depot has chosen the franchise model to expand throughout the U.S., and globally. We feel the best way to ensure excellent service is to have local owners in each market servicing their friends, neighbors, and fellow businesses. Their records are more than just part of a job, they are treated as if they were our own. The File Depot is on the official SBA franchise registry.
We would be happy to discuss if you would enjoy protecting and recycling.
Example Shredding Service Offerings